Old Two or 2 Rupees Coins Price Information and Value
Two Rupees  Coins were minted by the Indian government during the year 1982 to 2020.  These coins were minted in the alloy of Copper - Nickel and Ferritic Stainless Steel. These coins were circular in shape.
New 2 Rupee coins were introduced in the year 2019. It is very small in size compare to the old two rupee coin. Its diameter is about 23mm. This coin is minted in stainless steel. 2 Rs Coin is Round in shape.
What is the value of 2 rupees coin?
We have given the value of 2 rupees in year wise column. The maximum price of 2 rupees coin is 2500 in the year of 1992 Noida mint.
How much does it cost to make 2 rupee coin?
The cost of making 2 rupees coins is ₹1.28. The value of making this coin is lesser than its cost.
Mints Mark
(No Mint Mark) - Kolkata / Calcutta / Murshidabad, India
(Diamond) ♦ - Mumbai / Bombay, India
(Dot) ° - Noida, India
(Star) - Hyderabad, India
C - Royal Canadian Mint, Ottawa, Canada
(letters "MMD" in oval) MMD = Moscow
* (star below first or last numeral in date) = Seoul/Korea
M (letter "M" in oval) = Pretoria/South Africa
] (rotated once to the right, tower, looks like a bridge) = Llantrisant/UK
Old 2 Rupees Coin Price List in India
Old Two or 2 Rupees Coin with India Map National Integration
Reverse: India Map flag within and Year
Obverse: Ashoka Lion Capital Value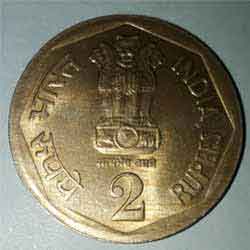 2 Rs Old Coin Information and Price
Period: 1982 to 1990
Metal: Copper - Nickel
Value: 2 Rupee (200 Paise)
2 Rupee Coin Weight 7.95 gms
Two Rupee coin Size: 28mm
2 Rs coin Thickness 1.93 mm
Shape : Circular
Year: 1982 Coin
Old 1982 2 rupees coin value
Mumbai Mint Price : F: 60 to 65 VF: 75 to 80 XF: 100 to 110 UNC: 125 to 130
Calcutta Mint Price : F: 70 to 75 VF: 100 to 110 XF: 125 to 130 UNC: 150 to 175
Year: 1990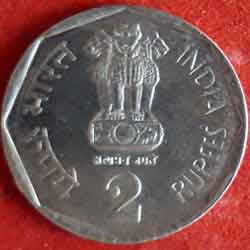 Old 2 Rs Coin 1990 Value
Mumbai Mint : F: 12 to 18 VF: 20 to 22 XF: 25 to 27 UNC: 30 to 35
Calcutta Mint : F: 40 to 45 VF: 50 to 55 XF: 60 to 70 UNC: 75 to 80
Hyderabad Mint : F: 40 to 45 VF: 50 to 55 XF: 60 to 70 UNC: 75 to 80
2 Rupees Coin in India
Reverse: India Map within Flag and Year
Obverse: Ashoka Lion Capital, Value
2 Rupees Coins Information and Value
Period: 1992 to 2004
Metal: Copper - Nickel
Value: 2 Rupee (200 Paise)
Weight 6 gms
Size: 26mm
Thickness: 1.71 mm
Shape : Circular
Year: 1992
Old Two Rupees Coin 1992 Value
Mumbai Mint : F: 10 to 12 VF: 15 to 20 XF: 25 to 27 UNC: 30 to 35
Calcutta Mint : F: 15 to 17 VF: 20 to 22 XF: 25 to 30 UNC: 40 to 50
Hyderabad Mint : F: 10 to 12 VF: 15 to 20 XF: 25 to 27 UNC: 30 to 35
Rare 2 Rupee coin 1992 Value
(Rare Coin) Noid Mint : F: 500 to 750 VF: 800 to 1000 XF: 1250 to 1500 UNC: 2000 to 2500
Year: 1993
2 Rupee coin 1993 value
Mumbai Mint : F: 10 to 12 VF: 15 to 17 XF: 25 to 27 UNC: 30 to 35
Calcutta Mint : F: 10 to 12 VF: 15 to 20 XF: 25 to 27 UNC: 30 to 35
Hyderabad Mint: F: 8 to 12 VF: 15 to 20 XF: 25 to 27 UNC: 30 to 35
Year: 1994
Indian 2 Rs coin 1994 price
Mumbai Mint : F: 10 to 13 VF: 15 to 20 XF: 25 to 28 UNC: 30 to 35
Calcutta Mint : F: 10 to 13 VF: 15 to 20 XF: 25 to 28 UNC: 30 to 35
Hyderabad Mint : F: 10 to 13 VF: 15 to 20 XF: 25 to 28 UNC: 30 to 35
Noida Mint : F: 10 to 13 VF: 15 to 20 XF: 25 to 28 UNC: 30 to 35
Year: 1995 Coin
1995 2 Rupes coin value
Mumbai Mint: F: 8 to 12 VF: 15 to 20 XF: 25 to 30 UNC: 30 to 35
Calcutta Mint: F: 8 to 12 VF: 15 to 20 XF: 25 to 30 UNC: 30 to 35
Hyderabad Mint: F: 8 to 12 VF: 15 to 20 XF: 25 to 30 UNC: 30 to 35
Noida Mint: F: 8 to 12 VF: 15 to 20 XF: 25 to 30 UNC: 30 to 35
Year: 1996
Indian 2 Rs 1996 Coin Value
Mumbai Mint: F: 7 to 12 VF: 15 to 18 XF: 22 to 26 UNC: 30 to 35
Calcutta Mint: F: 45 to 55 VF: 75 to 80 XF: 95 to 110 UNC: 120 to 130
Hyderabad Mint: F: 7 to 12 VF: 15 to 18 XF: 22 to 26 UNC: 30 to 35
Noida Mint: F: 7 to 12 VF: 15 to 18 XF: 22 to 26 UNC: 30 to 35
Year: 1997
Old 2 Rupees coin 1997 value
Mumbai Mint: F: 8 to 12 VF: 15 to 20 XF: 22 to 26 UNC: 30 to 35
Calcutta Mint: F: 8 to 12 VF: 15 to 20 XF: 22 to 26 UNC: 30 to 40
Hyderabad Mint: F: 8 to 12 VF: 15 to 20 XF: 22 to 26 UNC: 30 to 35
Noida Mint: F: 8 to 12 VF: 15 to 20 XF: 22 to 26 UNC: 30 to 35
Year: 1998
National Integration 2 rupee coin 1998 value
Mumbai Mint : F: 8 to 10 VF: 15 to 20 XF: 25 to 28 UNC: 30 to 35
Calcutta Mint : F: 8 to 10 VF: 15 to 20 XF: 25 to 28 UNC: 30 to 35
Hyderabad Mint : F: 8 to 10 VF: 15 to 20 XF: 25 to 28 UNC: 30 to 35
Noida Mint : F: 8 to 10 VF: 15 to 20 XF: 25 to 28 UNC: 30 to 35
S. Africa Mint : F: 8 to 10 VF: 15 to 20 XF: 25 to 28 UNC: 30 to 35
Seoul Mint : F: 8 to 10 VF: 15 to 20 XF: 25 to 28 UNC: 30 to 35
Year: 1999 Coin Value
1999 2 Rupee coin value
Mumbai Mint: F: 7 to 10 VF: 15 to 20 XF: 22 to 25 UNC: 30 to 35
Calcutta Mint: F: 7 to 10 VF: 15 to 20 XF: 22 to 25 UNC: 30 to 35
Hyderabad Mint: F: 7 to 10 VF: 15 to 20 XF: 22 to 25 UNC: 30 to 35
Noida Mint: F: 7 to 10 VF: 15 to 20 XF: 22 to 25 UNC: 30 to 35
London Mint: F: 7 to 10 VF: 15 to 20 XF: 22 to 25 UNC: 30 to 35
Year: 2000
2 rupee coin 2000 value
Mumbai Mint: F: 7 to 10 VF: 15 to 20 XF: 21 to 25 UNC: 27 to 35
Calcutta Mint: F: 7 to 10 VF: 15 to 20 XF: 21 to 25 UNC: 27 to 35
Hyderabad Mint: F: 7 to 10 VF: 15 to 20 XF: 21 to 25 UNC: 27 to 35
Noida Mint: F: 7 to 10 VF: 15 to 20 XF: 21 to 25 UNC: 27 to 30
Moscow Mint: F: 7 to 10 VF: 15 to 20 XF: 21 to 25 UNC: 27 to 30
Year: 2001
Old 2 Rs coin 2001 Price
Mumbai Mint: F: 7 to 12 VF: 15 to 20 XF: 22 to 25 UNC: 30 to 35
Calcutta Mint:F: 7 to 12 VF: 15 to 20 XF: 22 to 25 UNC: 30 to 35
Hyderabad Mint:F: 7 to 12 VF: 15 to 20 XF: 22 to 25 UNC: 30 to 35
Noida Mint: F: 7 to 12 VF: 15 to 20 XF: 22 to 25 UNC: 30 to 35
Year: 2002
Old Two Rupee Coin 2002 Value
Mumbai Mint: F: 7 to 10 VF: 15 to 20 XF: 22 to 25 UNC: 30 to 35
Calcutta Mint: F: 7 to 10 VF: 15 to 20 XF: 22 to 25 UNC: 30 to 35
Hyderabad Mint: F: 7 to 10 VF: 15 to 20 XF: 22 to 25 UNC: 30 to 35
Noida Mint: F: 7 to 10 VF: 15 to 20 XF: 22 to 25 UNC: 30 to 35
Year: 2003
Year: 2003
Two Rupee Coin 2003 Value
Mumbai Mint: F: 10 to 14 VF: 15 to 20 XF: 21 to 25 UNC: 30 to 35
Calcutta Mint: F: 10 to 14 VF: 15 to 20 XF: 21 to 25 UNC: 30 to 35
Hyderabad Mint: F: 10 to 14 VF: 15 to 20 XF: 21 to 25 UNC: 30 to 35
Noida Mint: F: 10 to 14 VF: 15 to 20 XF: 21 to 25 UNC: 30 to 35
Year: 2004
Two Rupe Coin 2004 Price
Mumbai Mint: F: 10 to 12 VF: 15 to 20 XF: 22 to 25 UNC: 26 to 30
(Rare Coin) 2 Rupee Coin Calcutta Mint Price : F: 250 to 275 VF: 300 to 350 XF: 500 to 600 UNC: 1000 to 1250
Hyderabad Mint: F: 10 VF: 15 XF: 25 UNC: 30
Two or 2 Rupees Cross Coins Information and Value
Reverse: Cross dividing four dots Depicting Unity in Diversity
Obverse: Ashoka Lion Capital, Value
Period:2005 to 2007
Metal: Ferritic stainless steel
Weight: 5.8 gm
Size: 26.75 mm
Thickness 1.5 mm
Shape: Circular
Year: 2005 Coin
2005 2 rupee coin with cross value
Mumbai Mint: F: 5 VF: 10 XF: 12 UNC: 15
Calcutta Mint: F: 5 VF: 10 XF: 12 UNC: 30
Hyderabad Mint: F: 5 VF: 10 XF: 20 UNC: 25
Noida Mint: F: 5 VF: 10 XF: 12 UNC: 20
Year: 2006
Two Rupee 2006 Coin Value
Reverse: Cross dividing four dots Depicting Unity in Diversity
Obverse: Ashoka Lion Capital, Value
Mumbai Mint: F: - VF: - XF: 10 UNC: 15
Calcutta Mint: F: - VF: - XF: 10 UNC: 15
Hyderabad Mint: F: - VF: - XF: 10 UNC: 15
Noida Mint: F: - VF: - XF: 10 UNC: 15
Year: 2007
2 Rs Coin 2007 price
Mumbai Mint: F: - VF: - XF: 10 UNC: 15
Calcutta Mint: F: - VF: - XF: 10 UNC: 15
Hyderabad Mint: F: - VF: - XF: 10 UNC: 15
Noida Mint: F: - VF: - XF: 10 UNC: 15
Nritya Mudra 2 Rupees Coin in India
Reverse: Nritya Mudra and value
Obverse: Ashoka Lion Capital, Year
2 Rupe Coins Information and Price
Period: 2007 to 2011
Metal: Ferritic stainless steel
Value: 2 Rupee (200 Paise)
Weight: 5.8 gms
Size: 26.75 mm
Thickness: 1.5 mm
Shape : Circular
Year: 2007
Two Rupe Coin 2007 Value
Mumbai Mint: F: - VF: - XF: - UNC: 5
Calcutta Mint: F: - VF: - XF: - UNC: 5
Hyderabad Mint: F: - VF: - XF: - UNC: 5
Year: 2008 Coin Value
Two Rupee coin 2008 Price
Mumbai Mint: F: - VF: - XF: - UNC: 5
Calcutta Mint: F: - VF: - XF: - UNC: 5
Hyderabad Mint: F: - VF: - XF: - UNC: 5
Noida Mint: F: - VF: - XF: - UNC: 5
Year: 2009 Coin Value
2 Rupees coin 2009 Price
Mumbai Mint: F: - VF: - XF: - UNC: 5
Calcutta Mint: F: - VF: - XF: - UNC: 5
Hyderabad Mint: F: - VF: - XF: - UNC: 5
Noida Mint: F: - VF: - XF: - UNC: 5
Year: 2010 Coin Value
2 Rs coin 2010 Price
Mumbai Mint: F: - VF: - XF: - UNC: 5
Calcutta Mint: F: - VF: - XF: - UNC: 5
Hyderabad Mint: F: - VF: - XF: - UNC: 5
Noida Mint: F: - VF: - XF: - UNC: 5
Year: 2011 Coin Value
Two Rupe coin 2011 Price
Mumbai Mint: F: - VF: - XF: - UNC: 5
Calcutta Mint: F: - VF: - XF: - UNC: 5
Hyderabad Mint: F: - VF: - XF: - UNC: 5
Noida Mint: F: - VF: - XF: - UNC: 5
Two or 2 Rs Coin
Reverse: Value, Year and decorated with lotus
Obverse: Ashoka Lion Capital
Two or 2 Rupees Coins Information and Price
Period: 2011 to 2019
Metal: Ferritic stainless steel
Value: 2 Rupee (200 Paise)
Weight 4.9 gms
Size: 25 mm
Thickness 1.54 mm
Shape : Circular
Year: 2011 Coin Value
Mumbai Mint: F: - VF: - XF: - UNC: 5
Calcutta Mint: F: - VF: - XF: - UNC: 5
Hyderabad Mint: F: - VF: - XF: - UNC: 5
Noida Mint: F: - VF: - XF: - UNC: 5
Year: 2012
2 Rs Coin 2012 Value
Mumbai Mint: F: - VF: - XF: - UNC: 5
Calcutta Mint: F: - VF: - XF: - UNC: 5
Hyderabad Mint: F: - VF: - XF: - UNC: 5
Noida Mint: F: - VF: - XF: - UNC: 5
Year: 2013
Two Rupees Coin 2013 Value
Mumbai Mint: F: - VF: - XF: - UNC: 5
Calcutta Mint: F: - VF: - XF: - UNC: 5
Hyderabad Mint: F: - VF: - XF: - UNC: 5
Noida Mint: F: - VF: - XF: - UNC: 5
Year: 2014
2 Rs Coin 2014 Value
Mumbai Mint Price : F: - VF: - XF: - UNC: 5
Calcutta Mint Price : F: - VF: - XF: - UNC: 5
Hyderabad Mint Price : F: - VF: - XF: - UNC: 5
Noida Mint Price : F: - VF: - XF: - UNC: 5
Year: 2015 Coin Value
2 Rs Coin 2015 Price
Mumbai Mint: F: - VF: - XF: - UNC: 5
Calcutta Mint: F: - VF: - XF: - UNC: 5
Hyderabad Mint: F: - VF: - XF: - UNC: 5
Noida Mint: F: - VF: - XF: - UNC: 5
Year: 2016 Coin Value
2 Rupees Coin 2016 Price
Mumbai Mint: F: - VF: - XF: - UNC: 5
Calcutta Mint: F: - VF: - XF: - UNC: 5
Hyderabad Mint: F: - VF: - XF: - UNC: 5
Noida Mint: F: - VF: - XF: - UNC: 5
Year: 2017 Coin Value
Two Rupees Coin 2017 Price
Mumbai Mint: F: - VF: - XF: - UNC: 5
Calcutta Mint: F: - VF: - XF: - UNC: 5
Hyderabad Mint: F: - VF: - XF: - UNC: 5
Noida Mint: F: - VF: - XF: - UNC: 5
Year: 2018 Coin Value
Reverse: The rupee symbol, Value and Year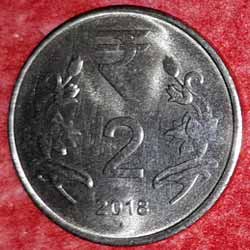 Obverse: Ashoka Lion Capital
Two Rs Coin 2018 Price
Mumbai Mint: F: - VF: - XF: - UNC: 5
Calcutta Mint: F: - VF: - XF: - UNC: 5
Hyderabad Mint: F: - VF: - XF: - UNC: 5
Noida Mint: F: - VF: - XF: - UNC: 5
Year: 2019 Coin Value
Two Rs Coin 2019
Mumbai Mint: F: - VF: - XF: - UNC: 5
Calcutta Mint: F: - VF: - XF: - UNC: 5
Hyderabad Mint: F: - VF: - XF: - UNC: 5
Noida Mint: F: - VF: - XF: - UNC: 5
New Two or 2 Rs Coin
Two or New 2 Rupees Coins 2019 and 2020 Information and Price
Reverse: Rupee Symbol, year at left and Grain design of top
Obverse: Ashoka Lion Capital
Period: 2019 to 2021
Metal: Ferritic stainless steel
Value: 2 Rupee (200 Paise)
Weight: 4.07 gms
Size: 23 mm
Thickness 1.5 mm
Shape : Circular
Year: 2019 Coin Value
New 2 Rupees 2019 Value New Symbol at centre
Mumbai Mint: F: - VF: - XF: 5 UNC: 10
Hyderabad Mint: F: - VF: - XF: 5 UNC: 10
Noida Mint: F: - VF: - XF: 5 UNC: 10
New 2 Rupees 2020 Value
Mumbai Mint Price: F: - Rs. VF: - Rs. XF: 5 UNC: 10
Hyderabad Mint: F: - Rs. VF: - Rs. XF: 5 UNC: 10
Noida Mint: F: - Rs. VF: - Rs. XF: 5 UNC: 20
New 2 Rupees 2021 Value
Hyderabad Mint Price : F: - Rs. VF: - Rs. XF: - UNC: 20
Quick Enquiry
*** For Buying and selling quires you can contact us to this Mail Id: gkarthikeyan2k@yahoo.com ********* Contact Us