Old One or 1 Rupee Coins Price Information and Value
One or 1 Rupee Coins were minted by the Indian government during the year 1950 to 2019. The value of (₹1) Rupee is 100 Paisas. The first Indian 1 rupee coin is made up of Nickel. The shape of this coin is round. Its weight is about 11.7g. The diameter of the coin is 27.9mm and thickness is about 2.65mm. This coin is in circulation today also. From 2013 the 1 Rs coins are minted in smaller size. The size of the coin is about 21.93mm. The weight of this coin is about 3.76g and its thickness is 1.45mm. This coins is made up of Stainless Steel.
What is the value of 1 rupee coin?
We have given the value of 1 rupee in year wise column. The maximum price of 1 rupees coin is 6000 in the year of 1970 Mumbai mint.
Mints Mark
(No Mint Mark) - Kolkata / Calcutta / Murshidabad, India
(Diamond) ♦ - Mumbai / Bombay, India
(Dot) ° - Noida, India
(Star) * - Hyderabad, India
C - Royal Canadian Mint, Ottawa, Canada
Old One or 1 Rupee Coins in India
Reverse: Corn Sheaf, Value and Year
Obverse: Ashoka Lion Capital
One 1 Rupee Coins Information and Price
Period: 1950 and 1954
Metal: Nickel
Value: 1 Rupee (100 Paise)
Weight: 11.66 gm
Size: 28mm
Shape : Circular
Old 1950 1 Rupee coin value
Calcutta Mint: F: 61 Rs. to 70 VF: 125 Rs. to 150 XF: 200 to 225 UNC: 250 to 300
Rare 1954 One Rupee coin Value
(Rare Coin) Mumbai Mint: F: 650 to 700 Rs. VF: 750 to 850 Rs. XF: 900 to 1000 UNC: 1500 to 1600
Indian One Rupee Coin
Reverse: Value and Year
Obverse: Ashoka Lion Capital
One or 1 Rupee Coins Information and Price
Period: 1962 and 1970
Metal: Nickel
Value: 1 Rupee (100 Paise)
Weight: 10 gm
Size: 28mm
Shape : Circular
Old One or 1 Rupee Coins 1962 Value
Calcutta Mint Price : F: 50 to 70 Rs. VF: 75 to 85 Rs. XF: 90 to 110 UNC: 125 to 150
Rare 1 Rupee Coins 1970 Value
(Rare Coin) Mumbai Mint Price: F: 3000 to 3400 Rs. VF: 3500 to 4000 Rs. XF: 4500 to 4750 UNC: 5500 to 5750
Big One or 1 Rs Coins Information and Price
Reverse: Value and Year
Obverse: Ashoka Lion Capital
Period: 1975 to 1982
Metal: Copper - Nickel
Weight 8 gms
Size: 28mm
Shape: Circular
One or 1 Rupee Coins 1975 Value
Reverse: Value and Year
Obverse: Ashoka Lion Capital
Mumbai Mint : F: 5 to 10 VF: 10 to 15 XF: 20 to 25 UNC: 26 to 30
Calcutta Mint : F: 5 to 10 Rs. VF: 10 to 15 Rs. XF: 20 to 25 UNC: 26 to 30
Reverse: Value and Year
Obverse: Ashoka Lion Capital
One or 1 Rupee coin 1976 price
Mumbai Mint : F: 5 to 10 Rs. VF: 11 to 15 Rs. XF: 20 to 25 UNC: 26 to 30
Calcutta Mint : F: 5 to 10 Rs. VF: 11 to 15 Rs. XF: 20 to 25 UNC: 26 to 30
Reverse: Value and Year
Obverse: Ashoka Lion Capital
One or 1 Rupee coin 1977 price
Mumbai Mint Value : F: 5 to 7 Rs. VF: 10 to 15 Rs. XF: 20 to 24 UNC: 25 to 30
Reverse: Value and Year
Obverse: Ashoka Lion Capital
Old 1978 One Rupee coin value
Mumbai Mint: F: 5 to 8 Rs. VF: 10 to 15 Rs. XF: 18 to 24 UNC: 25 to 30
Calcutta Mint: F: 5 to 8 Rs. VF: 10 to 15 Rs. XF: 18 to 24 UNC: 25 to 30
One or 1 Rupee Coins 1979 Value
Reverse: Value and Year
Obverse: Ashoka Lion Capital
Mumbai Mint Price : F: 5 to 8 Rs. VF: 10 to 15 Rs. XF: 20 to 25 UNC: 26 to 30
Calcutta Mint Price : F: 5 to 8 Rs. VF: 10 to 15 Rs. XF: 20 to 25 UNC: 26 to 30
Reverse: Value and Year
Obverse: Ashoka Lion Capital
1980 1 Rupee coin value
Mumbai Mint: F: 5 to 7 Rs. VF: 10 to 15 Rs. XF: 17 to 22 UNC: 25 to 30
Calcutta Mint: F: 5 to 7 Rs. VF: 10 to 15 Rs. XF: 17 to 22 UNC: 25 to 30
Reverse: Value and Year
Obverse: Ashoka Lion Capital
1981 One rupee coin value
Mumbai Mint: F: 5 to 7 Rs. VF: 10 to 15 Rs. XF: 17 to 20 UNC: 25 to 30
Calcutta Mint: F: 5 to 7 Rs. VF: 10 to 15 Rs. XF: 17 to 20 UNC: 25 to 30
Reverse: Value and Year
Obverse: Ashoka Lion Capital
1982 1 Rupee coin value
Mumbai Mint: F: 5 to 7 Rs. VF: 10 to 15 Rs. XF: 20 to 24 UNC: 25 to 30
One or 1 Rupee Coins Information and Price
Reverse: Value and Year
Obverse: Ashoka Lion Capital
Period: 1982 to 1991
Metal: Copper - Nickel
Weight: 6 gms
Size: 26mm
Shape: Circular
Rare 1982 One rupee coin value
(Very Rare Coin) Mumbai Mint Price: F: 25000 Rs. VF: 30000 Rs. XF: 35000 UNC: 40000
Reverse: Value and Year
Obverse: Ashoka Lion Capital
1983 1 Rupee coin value
Mumbai Mint: F: 5 Rs. VF: 10 Rs. XF: 15 UNC: 20
Calcutta Mint: F: 5 Rs. VF: 10 Rs. XF: 15 UNC: 20
Reverse: Value and Year
Obverse: Ashoka Lion Capital
1984 1 Rupee coin value
Mumbai Mint: F: 5 Rs. VF: 10 Rs. XF: 15 UNC: 20
Calcutta Mint: F: 5 Rs. VF: 10 Rs. XF: 15 UNC: 20
Hyderabad Mint: F: 50 Rs. VF: 60 Rs. XF: 75 UNC: 100
Reverse: Value and Year
Obverse: Ashoka Lion Capital
1985 1 Rupee coin value
Mumbai Mint Price : F: 5 Rs. VF: 10 Rs. XF: 15 UNC: 20
Calcutta Mint Price: F: 5 Rs. VF: 10 Rs. XF: 15 UNC: 20
Hyderabad Mint Price: F: 5 Rs. VF: 10 XF: 15 UNC: 20
Reverse: Value and Year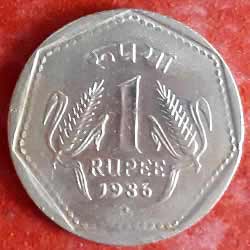 Obverse: Ashoka Lion Capital
1986 1 Rupee coin value
Mumbai Mint: F: 5 VF: 10 XF: 15 UNC: 20
Calcutta Mint: F: 5 VF: 10 XF: 15 UNC: 20
Hyderabad Mint: F: 100 VF: 150 XF: 200 UNC: 250
Reverse: Value and Year
Obverse: Ashoka Lion Capital
1987 One Rupee coin value
Mumbai Mint: F: 5 VF: 10 XF: 15 UNC: 20
Calcutta Mint: F: 5 VF: 10 XF: 15 UNC: 20
Hyderabad Mint: F: 100 VF: 150 XF: 200 UNC: 250
Reverse: Value and Year
Obverse: Ashoka Lion Capital
1988 1 Rupee coin value
Mumbai Mint: F: 5 VF: 10 XF: 15 UNC: 20
Calcutta Mint: F: 5 VF: 10 XF: 15 UNC: 20
Hyderabad Mint: F: 100 VF: 150 XF: 200 UNC: 250
(Rare Coin) Noida Mint: F: 300 VF: 400 XF: 500 UNC: 600
Reverse: Value and Year
Obverse: Ashoka Lion Capital
1989 1 Rupee coin value
Mumbai Mint: F: 5 VF: 10 XF: 15 UNC: 20
Calcutta Mint: F: 5 VF: 10 XF: 15 UNC: 20
Hyderabad Mint: F: 5 VF: 10 XF: 15 UNC: 20
Noida Mint: F: 50 VF: 75 XF: 100 UNC: 150
Reverse: Value and Year
Obverse: Ashoka Lion Capital
1990 1 Rupee coin value
Mumbai Mint: F: 5 VF: 10 XF: 15 UNC: 20
Calcutta Mint: F: 5 VF: 10 XF: 15 UNC: 20
Hyderabad Mint: F: 5 VF: 10 XF: 15 UNC: 20
Noida Mint: F: 50 VF: 75 XF: 100 UNC: 150
Reverse: Value and Year
Obverse: Ashoka Lion Capital
1991 1 Rupee coin value
Mumbai Mint: F: 5 VF: 10 XF: 15 UNC: 20
Calcutta Mint: F: 5 VF: 10 XF: 15 UNC: 20
Hyderabad Mint: F: 5 VF: 10 XF: 15 UNC: 20
One or 1 Rupee Coins Information and Value
Obverse: Ashoka Lion Capital
Reverse: Value and Year
Period: 1992 to 2004
Metal: Ferritic stainless steel
Weight: 4.85 gms
Size: 25mm
Thickness: 1.4mm
Shape: Circular
One or 1 Rupee Coins 1992 Value
Mumbai Mint: F: 5 VF: 10 XF: 15 UNC: 20
Hyderabad Mint: F: 5 VF: 10 XF: 15 UNC: 20
Obverse: Ashoka Lion Capital
Reverse: Value and Year
1993 One rupee coin value
Mumbai Mint: F: 5 VF: 10 XF: 15 UNC: 20
Calcutta Mint: F: 5 VF: 10 XF: 15 UNC: 20
Hyderabad Mint: F: 5 VF: 10 XF: 15 UNC: 20
Noida Mint: F: 5 VF: 10 XF: 15 UNC: 20
Obverse: Ashoka Lion Capital
Reverse: Value and Year
1 Rupee coin 1994 price
Mumbai Mint: F: 5 VF: 10 XF: 15 UNC: 20
Calcutta Mint: F: 5 VF: 10 XF: 15 UNC: 20
Hyderabad Mint: F: 5 VF: 10 XF: 15 UNC: 20
Noida Mint: F: 5 VF: 10 XF: 15 UNC: 20
Obverse: Ashoka Lion Capital
Reverse: Value and Year
1995 1 Rupee coin value
Mumbai Mint: F: 5 VF: 10 XF: 15 UNC: 20
Calcutta Mint: F: 15 VF: 20 XF: 25 UNC: 30
Hyderabad Mint: F: 5 VF: 10 XF: 15 UNC: 20
Noida Mint: F: 5 VF: 10 XF: 15 UNC: 20
Obverse: Ashoka Lion Capital
Reverse: Value and Year
1 Rupee coin 1996 value
Mumbai Mint: F: 5 VF: 10 XF: 15 UNC: 20
Calcutta Mint: F: 5 VF: 10 XF: 15 UNC: 20
Hyderabad Mint: F: 5 VF: 10 XF: 15 UNC: 20
Noida Mint: F: 5 VF: 10 XF: 15 UNC: 20
Obverse: Ashoka Lion Capital
Reverse: Value and Year
1997 1 Rupee coin value
Mumbai Mint: F: 5 VF: 10 XF: 15 UNC: 20
Calcutta Mint: F: 5 VF: 10 XF: 15 UNC: 20
Hyderabad Mint: F: 5 VF: 10 XF: 15 UNC: 20
Noida Mint: F: 5 VF: 10 XF: 15 UNC: 20
Mexico Mint: F: 5 VF: 10 XF: 15 UNC: 20
Obverse: Ashoka Lion Capital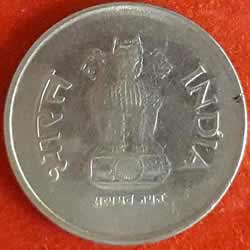 Reverse: Value and Year
1 Rupee coin 1998 value
Mumbai Mint: F: 5 VF: 10 XF: 15 UNC: 20
Calcutta Mint: F: 5 VF: 10 XF: 15 UNC: 20
Hyderabad Mint: F: 5 VF: 10 XF: 15 UNC: 20
Noida Mint: F: 5 VF: 10 XF: 15 UNC: 20
Slovakia Mint: F: 5 VF: 10 XF: 15 UNC: 20
Obverse: Ashoka Lion Capital
Reverse: Value and Year
1999 1 Rupee coin value
Mumbai Mint: F: 5 VF: 10 XF: 15 UNC: 20
Calcutta Mint: F: 5 VF: 10 XF: 15 UNC: 20
Hyderabad Mint: F: 5 VF: 10 XF: 15 UNC: 20
Noida Mint: F: 5 VF: 10 XF: 15 UNC: 20
Slovakia Mint: F: 5 VF: 10 XF: 15 UNC: 20
Obverse: Ashoka Lion Capital
Reverse: Value and Year
One or 1 Rs Coins 2000 Value
Mumbai Mint: F: 5 VF: 10 XF: 15 UNC: 20
Calcutta Mint: F: 5 VF: 10 XF: 15 UNC: 20
Hyderabad Mint: F: 5 VF: 10 XF: 15 UNC: 20
Noida Mint: F: 5 VF: 10 XF: 15 UNC: 20
Slovakia Mint: F: 5 VF: 10 XF: 15 UNC: 20
Obverse: Ashoka Lion Capital
Reverse: Value and Year
India 1 Rs Coins 2001 Value
Mumbai Mint: F: 5 VF: 10 XF: 15 UNC: 20
Calcutta Mint: F: 5 VF: 10 XF: 15 UNC: 20
Hyderabad Mint: F: 5 VF: 10 XF: 15 UNC: 20
Noida Mint: F: 5 VF: 10 XF: 15 UNC: 20
Slovakia Mint: F: 5 VF: 10 XF: 15 UNC: 20
India 1 Rupee Coins 2002 Value
Obverse: Ashoka Lion Capital
Reverse: Value and Year
Mumbai Mint: F: 5 VF: 10 XF: 15 UNC: 20
Calcutta Mint: F: 5 VF: 10 XF: 15 UNC: 20
Hyderabad Mint: F: 5 VF: 10 XF: 15 UNC: 20
Noida Mint: F: 5 VF: 10 XF: 15 UNC: 20
Obverse: Ashoka Lion Capital
Reverse: Value and Year
One or 1 Rs Coins 2003 Value
Mumbai Mint: F: 5 VF: 10 XF: 15 UNC: 20
Calcutta Mint: F: 5 VF: 10 XF: 15 UNC: 20
Hyderabad Mint: F: 5 VF: 10 XF: 15 UNC: 20
Noida Mint: F: 5 VF: 10 XF: 15 UNC: 20
Obverse: Ashoka Lion Capital
Reverse: Value and Year
One or 1 Rupee Coins 2004 Value
Mumbai Mint: F: 5 VF: 10 XF: 15 UNC: 20
Calcutta Mint: F: 5 VF: 10 XF: 15 UNC: 20
Hyderabad Mint: F: 5 VF: 10 XF: 15 UNC: 20
Noida Mint: F: 5 VF: 10 XF: 15 UNC: 20
One or 1 Rupee Coins Cross Depicting Unity in Diversity Price
Obverse: Ashoka Lion Capital and Year Below
Reverse: Cross Depicting Unity in Diversity
Period: 2004 to 2006
Metal: Ferritic stainless steel
One Rupee coin Weight: 4.95 gms
1 Rupee coin Size: 25mm
1 Rs coin Thickness: 1.5
Shape: Circular
One or 1 Rupee Coins 2004 Value
Mumbai Mint: F: - VF: - XF: 125 UNC: 325
One or 1 Rupee Coins 2005 Value
Mumbai Mint: F: 5 VF: - XF: 10 UNC: 15
Calcutta Mint: F: 5 VF: - XF: 10 UNC: 15
Hyderabad Mint: F: 5 VF: 10 XF: 15 UNC: 15
Noida Mint: F: 5 VF: - XF: 10 UNC: 15
One or 1 Rupee Coins 2006 Value
Mumbai Mint: F: 10 VF: 15 XF: 20 UNC: 40
One or 1 Rupee Coins in India Information and Value
Obverse: Ashoka Lion Capital and Year Below
Reverse: Value and Thumbs up symbol
Period: 2007 to 2011
Metal: Ferritic stainless steel
One Rupee coin Weight: 4.85 gms
1 Rupee coin Size: 25mm
1 Rs coin Thickness: 1.47
Shape: Circular
One or 1 Rupee Coins 2007 Value
Mumbai Mint: F: - VF: - XF: - UNC: 10
Calcutta Mint: F: - VF: - XF: - UNC: 10
Hyderabad Mint: F: 5 VF: 10 XF: 15 UNC: 20
Noida Mint: F: - VF: - XF: - UNC: 10
One or 1 Rupee Coins 2008 Value
Mumbai Mint: F: - VF: - XF: - UNC: 10
Calcutta Mint: F: - VF: - XF: - UNC: 10
Hyderabad Mint: F: - VF: - XF: - UNC: 10
Noida Mint: F: - VF: - XF: - UNC: 10
One or 1 Rupee Coins 2009 Value
Mumbai Mint: F: - VF: - XF: - UNC: 10
Calcutta Mint: F: - VF: - XF: - UNC: 10
Hyderabad Mint: F: - VF: - XF: - UNC: 10
Noida Mint: F: - VF: - XF: - UNC: 10
One or 1 Rupee Coins 2010 Value
Mumbai Mint: F: - VF: - XF: - UNC: 10
Calcutta Mint: F: - VF: - XF: - UNC: 10
Hyderabad Mint: F: - VF: - XF: - UNC: 10
Noida Mint: F: - VF: - XF: - UNC: 10
One or 1 Rupee Coins 2011 Value
Mumbai Mint: F: - VF: - XF: - UNC: 10
Calcutta Mint: F: - VF: - XF: - UNC: 10
Hyderabad Mint: F: - VF: - XF: - UNC: 10
Noida Mint: F: - VF: - XF: - UNC: 10
One or India 1 Rupee Coins Information and Price
Obverse: Ashoka Lion Capital
Reverse: Value and Year at center flanked by flora pattern on either side
Period: 2011 to 2019
Metal: Ferritic stainless steel
Weight: 3.79 gms
Size: 22mm
Shape: Circular
One or 1 Rupee Coins 2011 Value
Mumbai Mint: F: - VF: - XF: - UNC: 10
Calcutta Mint: F: - VF: - XF: - UNC: 10
Hyderabad Mint: F: - VF: - XF: - UNC: 10
Noida Mint: F: - VF: - XF: - UNC: 10
One or 1 Rupee Coins 2012 Value
Mumbai Mint: F: - VF: - XF: - UNC: 10
Calcutta Mint: F: - VF: - XF: - UNC: 10
Hyderabad Mint: F: - VF: - XF: - UNC: 10
Noida Mint: F: - VF: - XF: - UNC: 10
One or 1 Rupee Coins 2013 Value
Mumbai Mint: F: - VF: - XF: - UNC: 10
Calcutta Mint: F: - VF: - XF: - UNC: 10
Hyderabad Mint: F: - VF: - XF: - UNC: 10
Noida Mint: F: - VF: - XF: - UNC: 10
One or 1 Rupee Coins 2014 Value
Mumbai Mint: F: - VF: - XF: - UNC: 10
Calcutta Mint: F: - VF: - XF: - UNC: 10
Hyderabad Mint: F: - VF: - XF: - UNC: 10
Noida Mint: F: - VF: - XF: - UNC: 10
One or 1 Rupee Coins 2015 Price
Mumbai Mint: F: - VF: - XF = 3 UNC = 8
Calcutta Mint: F: - VF: - XF = 3 UNC = 8
Hyderabad Mint: F: - VF: - XF = 3 UNC = 8
Noida Mint: F: - VF: - XF = 3 UNC = 8
One or 1 Rupee Coins 2016 Value
Mumbai Mint: F: - VF: - XF: - UNC: 5
Calcutta Mint: F: - VF: - XF: - UNC: 5
Hyderabad Mint: F: - VF: - XF: - UNC: 5
Noida Mint: F: - VF: - XF: - UNC: 5
One or 1 Rupee Coins 2017 Value
Mumbai Mint: F: - VF: - XF: - UNC: 5
Calcutta Mint: F: - VF: - XF: - UNC: 5
Hyderabad Mint: F: - VF: - XF: - UNC: 5
Noida Mint: F: - VF: - XF: - UNC: 5
One or 1 Rupee Coins 2018 Value
Mumbai Mint: F: - VF: - XF: - UNC: 5
Calcutta Mint: F: - VF: - XF: - UNC: 5
Hyderabad Mint: F: - VF: - XF: - UNC: 5
Noida Mint: F: - VF: - XF: - UNC: 10
One or 1 Rupee Coins 2019 Value
Mumbai Mint: F: - VF: - XF: - UNC: 10
Calcutta Mint: F: - VF: - XF: - UNC: 5
Noida Mint: F: - VF: - XF: - UNC: 10
Hyderabad Mint: F: - VF: - XF: - UNC: 5
New One Rupee Coin New Symbol
One or 1 Rupee Coins 2019 Value
Mumbai Mint: F: - VF: - XF: - UNC = 5
Noida Mint: F: - VF: - XF: - UNC = 10
Hyderabad Mint: F: - VF: - XF: - UNC = 5
One or 1 Rupee Coins 2020 Value
Mumbai Mint: F: - VF: - XF: - UNC = 5
Noida Mint: F: - VF: - XF: - UNC = 5
Hyderabad Mint: F: - VF: - Rs. XF: - UNC = 5
Quick Enquiry
*** For Buying and selling quires you can contact us to this Mail Id: gkarthikeyan2k@yahoo.com ********* Contact Us