Five or Old 5 Rupees Indian Coin Price List Information and Value
Five or 5 Rupees  Coins were minted by the Indian government during the year 1982 to 2020.  These coins were minted in the alloy of Copper - Nickel and Ferritic Stainless Steel. These coins were circular in shape.
What is the value of 5 rupees coin?
We have given the value of 5 rupees in year wise column. The maximum price of 5 rupees coin is 850 (UNC) in the year of 2004 Hyderabad mint.
How much does it cost to make 5 rupee coin?
The cost spent for making this 5 rupee coin is ₹3.69. The amount is spent for making 5 rupee coin is lesser than its cost.
Mints Mark
(No Mint Mark) - Kolkata / Calcutta / Murshidabad, India
(Diamond) ♦ - Mumbai / Bombay, India
(Dot) ° - Noida, India
(Star) * - Hyderabad, India
C - Royal Canadian Mint, Ottawa, Canada
(letters "MMD" in oval) MMD = Moscow
* (star below first or last numeral in date) = Seoul/Korea
M (letter "M" in oval) = Pretoria/South Africa
] (rotated once to the right, tower, looks like a bridge) = Llantrisant/UK
Old 5 Rs Coin 1992 - 2004 (Copper - Nickel)
Obverse: Ashoka Lion Capital
Reverse: Value and Year
5 Rupees coin value in India and Information
Period: 1992 - 2004
Metal: Copper - Nickel
Value: 5 Rupee (500 Paise)
Weight 9 gms
Size: 23mm
Thickness 3 mm
Shape : Circular
Year: 1992
Obverse: Ashoka Lion Capital
Reverse: Value and Year
Old 5 Rs Coin 1992 Value
Mumbai Mint Price : VF: 9 to 12 Rs. XF: 15 to 17 UNC: 20 to 25
Calcutta Mint Price : VF: 10 to 12 Rs. XF: 15 to 17 UNC: 20 to 25
Hyderabad Mint Price : VF: 10 to 12 Rs. XF: 15 to 17 UNC: 20 to 25
Year: 1993 Coin Value
5 Rs Coin 1993 Price
Mumbai Mint: VF: 10 to 12 Rs. XF: 15 to 17 UNC: 20 to 25
Calcutta Mint: VF: 10 to 12 Rs. XF: 15 to UNC: 20 to 25
Year: 1994
Obverse: Ashoka Lion Capital
Reverse: Value and Year
5 Rs Coin 1994 Value
Mumbai Mint: VF: 10 to 12 Rs. XF: 15 to 20 UNC: 20 to 25
Calcutta Mint: VF: 10 to 12 Rs. XF: 15 to 20 UNC: 20 to 25
Hyderabad Mint: VF: 10 to 12 Rs. XF: 15 to 20 UNC: 20 to 25
Year: 1995
1995 Old 5 Rupe coin value
Mumbai Mint :- F: 7 to 10 VF: 11 to 15 Rs. XF: 16 to 20 UNC: 21 to 25
Calcutta Mint :- F: 7 to 10 VF: 11 to 15 Rs. XF: 16 to 20 UNC: 21 to 25
Hyderabad Mint :- F: 7 to 10 VF: 11 to 15 Rs. XF: 16 to 20 UNC: 21 to 25
Noida Mint :- F: 10 to 15 VF: 20 to 25 Rs. XF: 30 to 35 UNC: 40 to 45
Year: 1996
Obverse: Ashoka Lion Capital
Reverse: Value and Year
1996 Old 5 Rupees coin value
Mumbai Mint : VF: 10 to 15 Rs. XF: 16 to 20 UNC: 21 to 25
Calcutta Mint : VF: 10 to 15 Rs. XF: 16 to 20 UNC: 21 to 25
Hyderabad Mint : VF: 10 to 15 Rs. XF: 16 to 20 UNC: 25 to 30
Noida Mint : VF: 20 to 25 Rs. XF: 30 to 35 UNC: 40 to 50
Year: 1997
Obverse: Ashoka Lion Capital
Reverse: Value and Year
Five Rupees Coin 1997 Value
Mumbai Mint : VF: 10 to 12 Rs. XF: 15 to 17 UNC: 20 to 25
Calcutta Mint : VF: 10 to 12 Rs. XF: 15 to 17 UNC: 20 to 25
Hyderabad Mint : VF: 10 to 12 Rs. XF: 15 to 17 UNC: 20 to 25
Noida Mint : VF: 10 to 12 Rs. XF: 15 to 17 UNC: 20 to 25
Year: 1998
Obverse: Ashoka Lion Capital
Reverse: Value and Year
5 Rs Coin 1998 Value
Mumbai Mint : VF: 10 to 13 Rs. XF: 15 to 18 UNC: 20 to 25
Calcutta Mint : VF: 10 to 13 XF: 15 to 18 UNC: 20 to 25
Hyderabad Mint : VF: 10 to 13 XF: 15 to 18 UNC: 20 to 25
Noida Mint : VF: 10 to 13 XF: 15 to 18 UNC: 20 to 25
Year: 1999
Obverse: Ashoka Lion Capital
Reverse: Value and Year
1999 5 Rupes Coin Price
Mumbai Mint : VF: 8 to 14 XF: 15 to 18 UNC: 20 to 25
Calcutta Mint : VF: 8 to 14 XF: 15 to 18 UNC: 20 to 25
Hyderabad Mint : VF: 8 to 14 XF: 15 to 18 UNC: 20 to 25
Noida Mint : VF: 8 to 14 XF: 15 to 18 UNC: 20 to 25
Moscow Mint : VF: 8 to 14 XF: 15 to 18 UNC: 20 to 25
Year: 2000
Obverse: Ashoka Lion Capital
Reverse: Value and Year
Indian 5 Rupee coin 2000 value
Mumbai Mint : VF: 10 to 13 XF: 15 to 20 UNC: 21 to 30
Calcutta Mint : VF: 10 to 13 XF: 15 to 20 UNC: 21 to 30
Hyderabad Mint : VF: 10 to 13 XF: 15 to 20 UNC: 21 to 30
Noida Mint : VF: 10 to 13 XF: 15 to 20 UNC: 21 to 30
Moscow Mint Price : VF: 10 to 13 XF: 15 to 20 UNC: 21 to 30
Year: 2001 Coin
Obverse: Ashoka Lion Capital
Reverse: Value and Year
5 Rs Coin 2001 Value
Mumbai Mint : F: 6 to 8 VF: 10 to 13 XF: 15 to 17 UNC: 20 to 25
Calcutta Mint : F: 6 to 8 VF: 10 to 13 XF: 15 to 17 UNC: 20 to 25
Hyderabad Mint : F: 6 to 8 VF: 10 to 13 XF: 15 to 17 UNC: 20 to 25
Noida Mint : F: 6 to 8 VF: 10 to 13 XF: 15 to 17 UNC: 20 to 25
Year: 2002
Five Rupe Coin 2002 Value
Mumbai Mint: F: 7 to 10 VF: 11 to 15 XF: 17 to 20 UNC: 25 to 30
Calcutta Mint: F: 7 to 10 VF: 11 to 15 XF: 17 to 20 UNC: 25 to 30
Hyderabad Mint: F: 7 to 10 VF: 11 to 15 XF: 17 to 20 UNC: 25 to 30
Noida Mint: F: 7 to 10 VF: 11 to 15 XF: 17 to 20 UNC: 25 to 30
Year: 2003 Coin Value
Obverse: Ashoka Lion Capital
Reverse: Value and Year
Old 5 Rs Coin 2003 Value
Mumbai Mint: F: 6 to 9 VF: 10 to 14 XF: 15 to 18 UNC: 20 to 25
Calcutta Mint:F: 6 to 9 VF: 10 to 14 XF: 15 to 18 UNC: 20 to 25
Hyderabad Mint: F: 6 to 9 VF: 10 to 14 XF: 15 to 18 UNC: 20 to 25
Noida Mint:F: 6 to 9 VF: 10 to 14 XF: 15 to 18 UNC: 20 to 25
Year: 2004 Coin
Obverse: Ashoka Lion Capital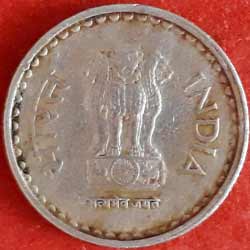 Reverse: Value and Year
5 Rupe coin 2004 Price
Mumbai Mint :- F: 7 to 10 VF: 11 to 15 XF: 16 to 20 UNC: 21 to 25
Calcutta Mint :- F: 20 to 24 VF: 25 to 28 XF: 30 to 35 UNC: 40 to 50
Rare 5 Rupee coin 2004 value
(Rare Coin ) Hyderabad Mint :- F: 100 to 150 VF: 200 to 250 Rs. XF: 300 to 350 UNC: 750 to 800
5 Rupees Coin Cross Depicting Unity in Diversity
Obverse: Ashoka Lion Capital and Value
Reverse: Cross Depicting Unity in Diversity
Cross Depicting Unity in Diversity Five Rupees Coin value in India
Period: 2007
Metal: Ferritic stainless steel
Value: 5 Rupee (500 Paise)
Weight 6 gms
Size: 23mm
Thickness 3 mm
Shape : Circular
Year: 2007 Coin Value
Rare Cross Depicting Unity in Diversity 5 Rupee Coin Value
(Rare Coin) Calcutta Mint: F: 110 to 140 VF: 150 to 175 XF: 200 to 250 UNC: 300 to 500
Five Rupes Coin Technology represented as Waves (2007 to 2008)
Obverse: Ashoka Lion Capital, Year
Reverse: Value and Information Technology represented as Waves
Period: 2007 - 2008
Metal: Ferritic stainless steel
Weight: 6 gm
Size: 23mm
Thickness: 3 mm
Shape: Circular
Year: 2007
Indian 5-Rupee coin 2007 value
Mumbai Mint: F: 6 to 7 VF: 8 to 10 XF: 11 to 13 UNC: 15 to 20
Calcutta Mint: F: 6 to 7 VF: 8 to 10 XF: 11 to 13 UNC: 15 to 20
Hyderabad Mint: F: 6 to 7 VF: 8 to 10 XF: 11 to 13 UNC: 15 to 20
Year: 2008
Obverse: Ashoka Lion Capital, Value
Reverse: Value and Information Technology represented as Waves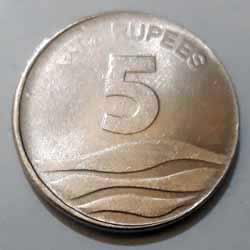 5 Rupee coin 2008 value
Mumbai Mint : F: 7 to 9 VF: 10 to 12 XF: 15 to 20 UNC: 21 to 25
Calcutta Mint: F: 7 to 9 VF: 10 to 12 XF: 15 to 20 UNC: 21 to 25
Hyderabad Mint: F: 7 to 9 VF: 10 to 12 XF: 15 to 20 UNC: 21 to 25
Five Rupees Coin in India (2009 to 2010)
Obverse: Ashoka Lion Capital
Reverse: Value and Year
Period: 2009 - 2010
Metal: Nickel - Brass
Weight: 6 gm
Size: 23mm
Thickness: 1.9 mm
Shape: Circular
Year: 2009
Five Rupe coin 2009 value
Mumbai Mint: F: 7 to 9 VF: 10 to 12 XF: 13 to 15 UNC: 16 to 17
Calcutta Mint: F: 7 to 9 VF: 10 to 12 XF: 13 to 15 UNC: 16 to 17
Hyderabad Mint: F: 7 to 9 VF: 10 to 12 XF: 13 to 15 UNC: 16 to 17
Year: 2010
Obverse: Ashoka Lion Capital
Reverse: Value and Year
Five Rupee coin 2010 Price
Mumbai Mint: F: 6 to 9 VF: 8 to 10 XF: 11 to 13 UNC: 15 to 17
Calcutta Mint: F: 6 to 9 VF: 8 to 10 XF: 11 to 13 UNC: 15 to 17
Hyderabad Mint: F: 6 to 9 VF: 8 to 10 XF: 11 to 13 UNC: 15 to 17
Five Rupees Coins Value in India (2011 to 2019)
Obverse: Ashoka Lion Capital
Reverse: Rupee Symbol, year at center and Lotus
Period: 2011 - 2019
Metal: Nickel - Brass
Weight: 6 gm
Size: 23mm
Thickness: 1.9 mm
Shape: Circular
Year: 2011
Five Rs coin 2011 Price
Mumbai Mint: XF: 7 UNC: 10
Calcutta Mint: XF: 7 UNC: 10
Hyderabad Mint: XF: 7 UNC: 10
Noida Mint: XF: 15 UNC: 20
Year: 2012
Obverse: Ashoka Lion Capital
Reverse: Rupee Symbol, year at center and Lotus
5 Rupee coin 2012 Price
Mumbai Mint: XF: 7 UNC: 10
Calcutta Mint: XF: 7 UNC: 10
Hyderabad Mint: XF: 7 UNC: 10
Noida Mint: XF: 15 UNC: 20
Year: 2013
Obverse: Ashoka Lion Capital
Reverse: Rupee Symbol, year at center and Lotus
5 Rupee coin 2013 value
Mumbai Mint: XF: 7 UNC: 10
Calcutta Mint: XF: 7 UNC: 10
Hyderabad Mint: XF: 7 UNC: 10
Noida Mint: XF: 15 UNC: 20
Year: 2014
5 Rs coin 2014 Price
Mumbai Mint: XF: 7 UNC: 10
Calcutta Mint: XF: 7 UNC: 10
Hyderabad Mint: XF: 7 UNC: 10
Noida Mint: XF: 30 UNC: 45
Year: 2015
Five Rupe coin 2015 value
Mumbai Mint: XF: 7 UNC: 10
Calcutta Mint: XF: 7 UNC: 10
Hyderabad Mint: XF: 7 UNC: 10
Noida Mint: XF: 7 UNC: 10
Year: 2016
Obverse: Ashoka Lion Capital
Reverse: Rupee Symbol, year at center and Lotus
5 Rs coin 2016 Price
Mumbai Mint: XF: 7 UNC: 10
Calcutta Mint: XF: 7 UNC: 10
Hyderabad Mint: XF: 7 UNC: 10
Noida Mint: XF: 7 UNC: 10
Year: 2017
Indian 5 rupees coin 2017 Value
Mumbai Mint: XF = 7 UNC = 10
Calcutta Mint: XF = 7 UNC = 10
Hyderabad Mint: XF = 7 UNC = 10
Noida Mint: XF = 10 UNC = 15
Year: 2018
Obverse: Ashoka Lion Capital
Reverse: Rupee Symbol, year at center and Lotus
5 Rupee coin 2018 value
Mumbai Mint: XF: 7 UNC: 10
Calcutta Mint: XF: 7 UNC: 10
Hyderabad Mint: XF: 7 UNC: 10
Noida Mint: XF: 7 UNC: 10
Year: 2019
Obverse: Ashoka Lion Capital
Reverse: Rupee Symbol, year at center and Lotus
5 Rupee coin 2019 value
Mumbai Mint: XF: 6 UNC: 10
Hyderabad Mint: XF: 6 UNC: 10
Noida Mint: XF: 6 UNC: 10
Five or New 5 Rupees Coin Value in India (2019 to 2020)
Obverse: Ashoka Lion Capital
Reverse: Rupee Symbol, year at left and Grain design of top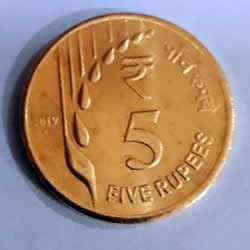 Period: 2019- 2020
Metal: Nickel - Brass
Weight: 6.74 gm
Size 25mm
Shape: Circular
Year: 2019
New 2019 5 rupees coin Value in India
Mumbai Mint Price:- UNC: 10
Hyderabad Mint:- UNC: 10
Noida Mint:- UNC: 10
Year: 2020
New 2020 5 Rs coin Value in India
Noida Mint:- UNC: 20
Hyderabad Mint:- UNC: 10
Mumbai Mint: UNC: 10
Quick Enquiry
*** For Buying and selling quires you can contact us to this Mail Id: gkarthikeyan2k@yahoo.com ********* Contact Us