Afghanistan Coins List and Value
Afghanistan occupies a mountainous region of Southwest Asia. Its area is about 652,090 sq.km. Afghanistan population is about 25.59 million.  Its capital is Kabul. Principal industries of this country are herding and agriculture. Textile mills and cement factories are in the industrial sector. Cotton, wool, fruit, nuts, oil, sheepskin coats and hand-woven carpets are exported from this country.
The coin of Afghanistan kingdom has the national symbol of stylized mosque. We can see a mihrab a niche which indicates the direction of Mecca. The minbar, pulpit,  a flight of steps leading up to it.
Afghanistan Coin One or 1 Afghani
Period: 1383-1384 (2004-2005)
Metal: Copper plated steel
Value: 1 Afghani 1 AFN = 0.93 INR
Currency: Second Afghani 
Weight: 3.25 gm
Size: 20.0mm
Thickness: 1.6 mm
Shape : Circle
Year : 1383 (2004) (١٣٨٣) Value
Mintage :
Price: Fine: 40 Very Fine: 50 Extremely Fine: 55 Uncirculated coins: 80
Year : 1384 (2005) ١٣٨۴ Value
Mintage :
Price: Fine: 65 Very Fine: 80 Extremely Fine: 110 Uncirculated coins: 180
Afghanistan Coin One or 1 Afghani
Price: 80
Afghanistan Coin 2 Afghanis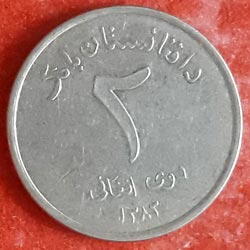 Period: 1383-1384 (2004-2005)
Metal: Stainless steel
Value: 2 Afghanis 2 AFN = 1.87 INR
Currency: Second Afghani 
Weight: 4.1 gm
Size: 22.0mm
Thickness: 1.55 mm
Shape : Circle
Year : 1383 (2004)  ١٣٨٣ Value
Price: Fine: 50 Very Fine: 60 Extremely Fine: 75 Uncirculated coins: 90
Year :1384 (2005)  ١٣٨۴ Value
Price: Fine: 80 Very Fine: 150 Extremely Fine: 200 Uncirculated coins: 270
Afghanistan Coin 2 Afghanis
Price: 150
Five or 5 Afghanis
Period: 1383-1384 (2004-2005)
Metal: Brass
Value: 5 Afghanis 5 AFN = 4.66 INR
Currency: Second Afghani 
Weight: 5.08 gm
Size: 24.0mm
Thickness: 1.69 mm
Shape : Circle
Year : 1383 (2004)  ١٣٨٣ Value
5 Afghanis 2004 Coin Value
Price: Fine: 50 Very Fine: 60 Extremely Fine: 75 Uncirculated coins: 90
Year :1384 (2005)  ١٣٨۴ Value
5 Afghanis 2005 Coin Value
Price: Fine: 110 Very Fine: 175 Extremely Fine: 250 Uncirculated coins: 350
Afghanistan Coin Five or 5 Afghanis
Price: 150
25 Pul
Period: 1359 (1980)
Metal: Aluminium-Bronze
Value: 25 Pul = 0.25 AFA
Currency: First afghani
Weight: 2.3 gm
Size: 19.0mm
Thickness: 1.24 mm
Shape : Circle
Year :1359 (1980)  ١٣۵٩ Value
25 Pul 1980 Coin Value
Price: Fine: 60 Very Fine: 90 Extremely Fine: 110 Uncirculated coins: 125
Afghanistan Coin 25 Pul
Price: 125
25 Pul
Period: 1357 (1978)
Metal: Aluminium-Bronze
Value: 25 Pul = 0.25 AFA
Currency: First afghani
Weight: 2.5 gm
Size: 19.5mm
Shape : Circle
Year :1357 (1978)  ۱۳۵۷ Value
25 Pul 1978 Coin Value
Price: Fine: 80 Very Fine: 90 Extremely Fine: 115 Uncirculated coins: 160
Afghanistan Coin 25 Pul
Price: 175
50 Pul
Period: 1359 (1980)
Metal: Aluminium-Bronze
Value: 50 Pul = 0.50 AFA
Currency: First afghani
Weight: 3.16 gm
Size: 21.0mm
Shape : Circle
Afghanistan Coin 50 Pul
Price: 185
50 Pul
Period: 1357 (1978)
Metal: Aluminium-Bronze
Value: 50 Pul = 0.50 AFA
Currency: First afghani
Weight: 3.1 gm
Size: 20.9mm
Shape : Circle
Afghanistan Coin 50 Pul
Price: 225
1 Afghani
Period: 1359 (1980)
Metal: Copper-nickel
Value: 1 Afghani = 1 AFA
Currency: First afghani
Weight: 4.5 gm
Size: 23.0mm
Thickness: 1.53mm
Shape : Circle
Afghanistan Coin 1 Afghani
Price: 185
1 Afghani
Period: 1357 (1978)
Metal: Copper-nickel
Value: 1 Afghani = 1 AFA
Currency: First afghani
Weight: 4.6 gm
Size: 23.0mm
Shape : Circle
Afghanistan Coin 1 Afghani
Price: 250
2 Afghanis
Period: 1359 (1980)
Metal: Copper-nickel
Value: 2 Afghanis = 2 AFA
Currency: First afghani
Weight: 6 gm
Size: 25mm
Thickness: 1.7mm
Shape : Circle
Afghanistan Coin 2 Afghanis
Price: 210
2 Afghanis
Period: 1357-1358 (1978-1979)
Metal: Copper-nickel
Value: 2 Afghanis = 2 AFA
Currency: First afghani
Weight: 6 gm
Size: 25mm
Thickness: 1.7mm
Shape : Circle
Afghanistan Coin 2 Afghanis
Price: 300
5 Afghanis
Period: 1359 (1980)
Metal: Copper-nickel
Value: 5 Afghanis = 5 AFA
Currency: First afghani
Weight: 7.5 gm
Size: 27mm
Thickness: 1.79mm
Shape : Circle
Afghanistan Coin 5 Afghanis
Price: 250
5 Afghanis - Muhammed Zahir Shah
Period: 1340 (1961)
Metal: Nickel plated steel
Value: 5 Afghanis = 5 AFA
Currency: First afghani
Weight: 8.04 gm
Size: 29mm
Thickness: 1.96mm
Shape : Circle
Afghanistan Coin 5 Afghanis - Muhammed Zahir Shah
Price: 200
25 Pul
Period: 1352 (1973)
Metal: Brass clad steel
Value: 25 Pul = 0.25 AFA
Currency: First afghani
Weight: 2.5 gm
Size: 19mm
Thickness: 1.3mm
Shape : Circle
Afghanistan Coin 25 Pul
Price: 225
50 Pul
Period: 1352 (1973)
Metal: Copper clad steel
Value: 50 Pul = 0.50 AFA
Currency: First afghani
Weight: 3.5 gm
Size: 21mm
Thickness: 1.7mm
Shape : Circle
Afghanistan Coin 50 Pul
Price: 230
5 Afghanis
Period: 1352 (1973)
Metal: Copper-nickel clad steel
Value: 5 Afghanis (5 AFA)
Currency: First afghani
Weight: 7.1 gm
Size: 27.5mm
Thickness: 1.8mm
Shape : Circle
Afghanistan Coin 5 Afghanis
Price: 200
2 Pul - Muhammed Zahir Shah
Period: 1316 (1937)
Metal: Bronze
Value: 2 Pul = 0.02 AFA
Currency: First afghani
Weight: 2gm
Size: 15mm
Shape : Circle
Afghanistan Coin 2 Pul - Muhammed Zahir Shah
Price: 200
3 Pul - Muhammed Zahir Shah
Period: 1316 (1937)
Metal: Bronze
Value: 3 Pul (0.03 AFA)
Currency: First afghani
Weight: 2.47gm
Size: 16mm
Shape : Circle
Afghanistan Coin 3 Pul - Muhammed Zahir Shah
Price: 250
5 Pul - Muhammed Zahir Shah
Period: 1316 (1937)
Metal: Bronze
Value: 5 Pul (0.05 AFA)
Currency: First afghani
Weight: 3gm
Size: 17mm
Thickness: 1.8mm
Shape : Circle
Afghanistan Coin 5 Pul - Muhammed Zahir Shah
Price: 225
5 Pul - Muhammed Nadir Shah
Period: 1311-1314 (1932-1935)
Metal: Bronze
Value: 5 Pul (0.05 AFA)
Currency: First afghani
Weight: 3gm
Size: 21mm
Shape : Circle
Afghanistan Coin 5 Pul - Muhammed Zahir Shah
Price: 225
10 Pul - Muhammed Zahir Shah
Period: 1316 (1937)
Metal: Copper-nickel
Value: 10 Pul (0.10 AFA)
Currency: First afghani
Weight: 2.5gm
Size: 18mm
Thickness: 1.1mm
Shape : Circle
Afghanistan Coin 10 Pul - Muhammed Zahir Shah
Price: 375
25 Pul - Muhammed Zahir Shah smooth edge
Period: 1331-1334 (1952-1955)
Metal: Nickel clad steel
Value: 25 Pul (0.25 AFA)
Currency: First afghani
Weight: 3gm
Size: 20mm
Thickness: 1.6mm
Shape : Circle
Afghanistan Coin 25 Pul - Muhammed Zahir Shah smooth edge
Price: 210
25 Pul - Muhammed Zahir Shah
Period: 1331 (1952)
Metal: Aluminium
Value: 25 Pul (0.25 AFA)
Currency: First afghani
Weight: 2.5gm
Size: 24mm
Thickness: 2.4mm
Shape : Circle
Afghanistan Coin 25 Pul - Muhammed Zahir Shah
Price: 800
25 Pul - Muhammed Zahir Shah
Period: 1330-1333 (1951-1954)
Metal: Bronze
Value: 25 Pul = 0.25 AFA
Currency: First afghani
Weight: 2.81gm
Size: 20.07mm
Thickness: 1.35mm
Shape : Circle
Afghanistan Coin 25 Pul - Muhammed Zahir Shah
Price: 275
25 Pul - Muhammed Zahir Shah
Period: 1316 (1937)
Metal: Copper-nickel
Value: 25 Pul = 0.25 AFA
Currency: First afghani
Weight: 2.9gm
Size: 20.0mm
Thickness: 1.29mm
Shape : Circle
Afghanistan Coin 25 Pul - Muhammed Zahir Shah
Price: 1300
25 Pul - Muhammed Zahir Shah
Period: 1312-1316 (1933-1937)
Metal: Bronze or Copper
Value: 25 Pul = 0.25 AFA
Currency: First afghani
Weight: 7.5gm
Size: 24.7mm
Thickness: 1.7mm
Shape : Circle
Afghanistan Coin 25 Pul - Muhammed Zahir Shah
Price: 300
50 Pul - Muhammed Zahir Shah
Period: 1331-1334 (1952-1955)
Metal: Nickel clad steel
Value: 50 Pul = 0.50 AFA
Currency: First afghani
Weight: 4.92gm
Size: 22.3mm
Thickness: 1.88mm
Shape : Circle
Afghanistan Coin 50 Pul - Muhammed Zahir Shah
Price: 180
50 Pul - Muhammed Zahir Shah small type
Period: 1330 (1951)
Metal: Bronze
Value: 50 Pul = 0.50 AFA
Currency: First afghani
Weight: 4.65gm
Size: 22.18mm
Thickness: 1.49mm
Shape : Circle
Afghanistan Coin 50 Pul - Muhammed Zahir Shah small type
Price: 325
1 Afghani - Muhammed Zahir Shah
Period: 1340 (1961)
Metal: Nickel clad steel
Value: 1 Afghani = 1 AFA
Currency: First afghani
Weight: 4.0gm
Size: 23.0mm
Thickness: 1.6mm
Shape : Circle
Afghanistan Coin 1 Afghani - Muhammed Zahir Shah
Price: 125
2 Afghanis - Muhammed Zahir Shah
Period: 1340 (1961)
Metal: Nickel clad steel
Value: 2 Afghani = 2 AFA
Currency: First afghani
Weight: 5.3gm
Size: 25.1mm
Thickness: 1.5mm
Shape : Circle
Afghanistan Coin 2 Afghanis - Muhammed Zahir Shah
Price: 150
2 Afghanis - Muhammed Zahir Shah
Period: 1337 (1958)
Metal: Aluminium
Value: 2 Afghani = 2 AFA
Currency: First afghani
Weight: 2.6gm
Size: 24.0mm
Thickness: 2.3mm
Shape : Circle
Afghanistan Coin 2 Afghanis - Muhammed Zahir Shah
Price: 300
5 Afghanis - Muhammed Zahir Shah
Period: 1340 (1961)
Metal: Nickel plated steel
Value: 5 Afghani = 5 AFA
Currency: First afghani
Weight: 8.04gm
Size: 29.0mm
Thickness: 1.96mm
Shape : Circle
Afghanistan Coin 5 Afghanis - Muhammed Zahir Shah
Price: 210
5 Afghanis - Muhammed Zahir Shah
Period: 1337 (1958)
Metal: Aluminium
Value: 5 Afghani = 5 AFA
Currency: First afghani
Weight: 3.0gm
Size: 26.0mm
Shape : Circle
Afghanistan Coin 5 Afghanis - Muhammed Zahir Shah
Price: 650
25 Pul - Muhammed Nadir Shah
Period: 1348-1349 (1929-1930)
Metal: Copper 
Value: 25 Afghani = 25 AFA
Currency: First afghani
Weight: 6.0gm
Size: 25.0mm
Shape : Circle
Afghanistan Coin 25 Pul - Muhammed Nadir Shah
Price: 300
½ Afghani - Muhammed Nadir Shah
Period: 1348-1350 (1929-1931)
Metal: Silver (.500) 
Value: 1/2 Afghani = 0.5 AFA
Currency: First afghani
Weight: 5.0gm
Size: 24.0mm
Shape : Circle
Afghanistan Coin ½ Afghani - Muhammed Nadir Shah
Price: 1250
Quick Enquiry
*** For Buying and selling quires you can contact us to this Mail Id: gkarthikeyan2k@yahoo.com ********* Contact Us